Over 300 5-Star Reviews on Google, Facebook, & More!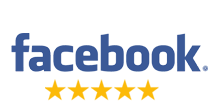 See What Our Patients Have to Say About Their Experience with Our 5-Star-Rated Team
With over 18,000 patients helped since 1986, we have received numerous Hollowbrook Foot Specialists, P.C. reviews praising our friendly atmosphere, compassionate doctor, and state-of-the-art podiatry care. Take a look at what our patients have to say about their experiences with our board-certified podiatrist and team.
"Dr. Schlam is friendly, professional, thorough and listens to my concerns.   He has  outlined a plan that has been successful for treating a very painful heel.  He is an excellent and dedicated diagnostician.  I highly recommend him, as he is an excellent doctor."
– Karen S.

"The entire staff is friendly and considerate. Social distancing is strictly observed. Dr Schlam is very thorough, amiable and professional. He did a culture on my toenail "fungus" which my previous doctor failed to do. He mentioned an easy way to fix an ingrown toenail, as opposed to removing 1/2 the nail as my friend had done. Highly recommend."
– Trish W.

"Always a pleasure to visit. Fast and effective. You can't ask for more."
– Jeremy L.

"Staff is very pleasant from the moment you walk in the door."
– Glen M.

"Everyone in the office are so professional yet friendly polite and compassionate. Best doctors office in the area."
– Sandra S.

"Everyone was very friendly and I was able to see the doctor right as soon as I arrived."
– Michelle P.

"Great Doctor, very professional and knowledgeable."
– Lori B.

"Easy and simple online appointment scheduling. friendly and kind office staff – who text!!! 🙂 Big plus for me. Easy parking, clean office and a nice doctor who helps to "heel" your pain/problem using language you can actually understand. Helpful! Highly recommend."
– Rebecca S. 

"everything about this experience was 5 star from making the appt to checking out at the conclusion the whole staff was perfect. the Dr himself was so informative it made the procedure flawless thank you all so very much"
– Frank P.

"My little girl needed help with 2 ingrown toenails…which can be traumatic for small children. The staff and Dr. Schlam were amazing and so thoughtful and caring to my daughter. She was nervous for the procedure, but a staff member gave a small toy for her to hold; and joked and sang to her to keep her calm and happy. Thank you ALL for taking such good care of my little girl!!! Her toes are healed and healthy! No more pain!!! I highly recommend your practice!!!"
– Emily G.

"Always arrive to a pleasant cheerful staff! They make you feel welcome and get you situated quickly! The Doctor is friendly and makes your feet feel great! I travel a bit to get to this office, but it is so worth it! The staff is always helpful and customizes my appointments to my needs!"
– Bob Dinsmore

"GREAT EXPERIENCE!!!! Very nice, friendly, and thorough doctor. Wonderful staff too! Very clean office. They fit me into there schedule the same day. They recognized my issue right away and got me out of discomfort painlessly."
– Jordan Cantatore

"Dr. Schlam has been my podiatrist for the past 20 years. He is a compassionate doctor. He listens attentively to my symptoms prior to any diagnosis. He is thorough in his assessments and treats my foot issues effectively. My bunion surgery in November 2018 went so well that I am having my other foot done in a few months. I highly recommend Dr. Schlam."
– Norma Ramirez

"You will not find a better podiatrist than Dr. Schlam. I have been seeing him for over twenty years and he has been a godsend for my foot pain. If only I could give six stars…"
– John Milkovich

"Great experience. They got my son in as soon as possible as made sure his foot was ok. Will definitely use them again!"
– Irene Trinidad

"A very relaxing first visit with Dr. Schlam. I am looking forward to being a regular patient."
– Nancy Piscitello

"The best health care experience. The staff and nurses are super friendly and Dr. Schlam is very good. I highly recommend Hollowbrook Foot Specialists."
– Bob DeWitt

"When I went to Hollowbrook foot specialist I was absolutely desperate for some relief. I was suffering with incredible foot pain, I couldn't walk without assistance. I have to admit I saw an orthopedic first, but they did not help at all. Dr. Schlam listened to what I had to say and knew exactly how to treat my condition. I went from not being able to walk when I went in, to being able to walk out of the office with minimal assistance. It only got better from there! It only took 2 days for me to be practically pain-free!
I am so grateful I found Dr. Schlam.
I WOULD DEFINITELY RECOMMEND HIM!"
– Theresa Brown

"Literally the best experience ever! Front desk is friendly and helpful! Medical assistants are very caring! Dr. Schlam has the best bedside manner I've ever seen and absolutely took care of all of my issues! You will not be disappointed! Highly recommend!!!"
– Darby Cohn

"Dr. Schlam was very professional and put me at ease during my appointment as I am very nervous about needles. Both of my big toes had bad ingrown toenails and they were removed quickly. Will visit again."
– Lucy Doyen

"The people at Hollowbrook Foot Specialist are simply great. They are friendly and caring as well as very professional. Dr. Schlam is not only a very warm person but an excellent doctor. He has always zeroed in on my problem and took care of it, always wearing a smile. I have great confidence in him and have referred friends who were also happy."
– Mary Sutton

"The staff is really friendly and very helpful. Glad I went to get my foot taken care of!"
– Lara Jarvis

"I was seen quickly for my appointment and dr Schlam and the staff were pleasant."
– Robin Cortes

"I saw Dr. Schlam in January when I was having issues walking. Being really nervous about this new development, my fears were immediately quelled when I walked into the office. Everyone was super friendly and sitting with Dr. Schlam eased my fear and made me feel right at home. He is incredibly knowledgeable and very nice. I haven't had a single problem since then! You're definitely in good hands if you're a patient here!"
– Tatyana de Muns

"Dr. Schlam is the best foot doctor ever. I recently had surgery in my foot (EPF) and I am so pleased with the outcome. I did not feel any pain when I was doing the injection treatment before the surgery. Dr. Schlam and his staff were very professional and friendly during my treatment. Thank you so much, Doc!"
– Juana Ramos

As one of the premier podiatry centers in Wappingers Falls, NY our podiatrist and team at Hollowbrook Foot Specialists also provide 5-star-rated podiatry care to patients from Poughkeepsie, Hopewell Junction, Fishkill & Beacon, NY, and Surrounding Areas.